Golf Course Profiles
Woodsome Hall Golf Club, Huddersfield, Yorkshire, UK

PROJECT - Re-construction - 18 holes 6,080yds - Parkland
COURSE STYLE -
ORIGINAL ARCHITECTS - William Burton, 1922 and James Braid, 1929/30

James Braid

14/20 in 2008/2009 Peugeot Golf Guide
Oops!
It looks like you don't have flash player installed. Click here to go to Adobe download page.
Woodsome Hall, south of Huddersfield, provides traditional quality to its members and visitors alike. Originally designed by William Button with amendments by James Braid in 1929, who also created Carnoustie, Gleneagles and Dalmahoy, with a stunning 14th century Club House.
Woodsome Hall has long been regarded by many, including Peter Alliss as a hidden gem. The 14th Century clubhouse alone is worth a visit, one of the most interesting and beautiful anywhere.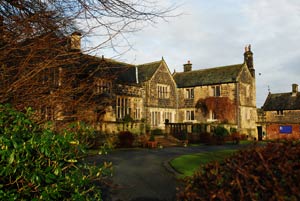 The club was included within Peter Alliss's book "The Best 200 Golf Clubs in the British Isles"

The Clubhouse is an imposing Jacobean Hall which has survived with many of the original features still intact. The main corridor which still has the original York stone floor houses the original staircase that has recently had its walls stripped of plaster to reveal the original timber frame.
The oak-panelled Dining Hall, with its enormous fireplace and carved lintel, houses the main clock which dates back to 1652.
The club's official website gives a very interesting background to the club's history and development. With the 6th Earl or Dartmouth invited to become the Club's first President, a tradition carried on, as the Clubs list of Presidents still only bears the name Dartmouth albeit of different generations.
In 1922 William Button, later to become the Club Professional, was appointed as Course Builder, and it seems incredible that by Easter 1922, he had already, with help of some thirty men, managed to get thirteen holes into play. Just over a year later the full course was completed and a formal opening ceremony was performed by Button and Arthur Day, a well known professional from Ganton.
The course was originally designed to be played with the second half first, but has since been reversed.
In 1929 at a July meeting it was announced that James Braid was to visit the course and make a report on suggested improvements. In October of the same year James Braid arrived from Walton Heath, and made a very extensive report where he suggested enlargement of many tees along with other improvements which the greenstaff put into place over the next few years.
Apparently the course now does not quite resemble the original one laid out by Button yet the basic layout is pretty much the same. It it sure however that the current 12th hole was pretty similar to what can be seen today as even at that time comments were made to investigate how best to make this hole less hilly and even today, part of my brief for hole 12 was to try and identify how to make it less uphill!
I have been lucky enough to have been involved as consultant golf course architect to Woodsome hall since 1992. Over the years several captains, Presidents and Greens Chairmen have voiced opinions on what could, should or may be done to improve the course which contains a stunning variety of cathedral-like beech trees, oaks and many swathes of rhododendrons and over the years minor changes have taken place in-house.
In 2007 Woodsome decided to embark upon what can only be called a 'major re-construction' programme for the future of the course with an extensive drainage programme, re-bunkering throughout and several new greens. The design process has taken a considerable amount of time as plans were produced, amended and even rejected in some instances. For Woodsome any change it is very important and has to be handled carefully and with great sympathy. Steve Marnoch has worked very closely with the Development Committee to ensure that they are totally happy with the suggested changes.
Early 2008 saw the plans and programme for Phase 1 of the development for Holes 1-10 presented at a members information meeting to a packed house, the biggest attendance that the club has ever had at any meeting.
In presenting to the members part of my presentation focused on the development and creation of 'swales' around the course. Most of the members were totally unfamiliar with the term swale. I have come across this before during my career so perhaps it is time to offer definitions of the word and here are several that best fit the bill.
What the hell is a swale?
An elongated depression in the land surface that can be seasonally wet, can be partially vegetated, and is normally without constant flowing water
A wide, shallow depression in the ground designed to channel drainage of rainwater
A natural depression or wide shallow ditch used to temporarily convey, store, or filter runoff
A depression in grading used to carry water; a man-made "river" used to drain a site. A functional and ornamental swale is called a dry stream
This other comment found on the web regarding swales also explains what they can achieve.
"Our swales are 5' wide and half a foot deep, with a gentle side slope. It is nonsense that these wouldn't be maintained as they're as easy to mow as the rest of the yard."
Therefore a swale in golf course design could be defined as a wide but shallow and mowable valley which is used to create character within the golfing landscape and which also diverts and controls the flow of surface water. How you use the swale and its ultimate shape and character is up to the skill of the architect and the shaper constructing it!
When working on an existing course where it is intended to retain the majority of the existing greens yet re-construct elements of the surrounds, particularly the bunkers, and the creation of swales comes into its own as a fantastic tool for the golf architect.
I am delighted also to be working on a course steeped in history and one which has had the involvement of the great James Braid. In this respect one has to be mindful and careful to appreciate the good quality works that may still be in existence on the course and respect the achievements of one of the world's great golf course architects.
Links