Golf Course Profiles
Cavendish Golf Club, Buxton, Derbyshire, UK

"this is one of the very good MacKenzie courses in Britain" Peugeot Golf Guide 2008/2009
PROJECT - Re-construction - 18 holes 5,721yds - Moorland
ORIGINAL ARCITECT - Alister MacKenzie
OPENED - 1925

Alister MacKenzie

15/20 in Peugeot Golf Guide 2008/2009
Oops!
It looks like you don't have flash player installed. Click here to go to Adobe download page.
To be asked to work on any course where Alister MacKenzie has worked is always a thrill and over the years I have worked on many MacKenzie courses but Cavendish is undoubtedly one of my favourites. It is really a fine example of the great architects work in stunning setting in the hills of The Peak District.
At the same time as designing Cavendish, MacKenzie was consultant to the R & A at St Andrews, which is interesting because there are similarities between the 11th at St Andrews with the 15th at Cavendish. I too have taken inspiration from Cavendish within many of my design proposals around Europe probably being influenced more my MacKenzie than any other historic architect.
The Club opened in 1925 and has not been changed to suit modern golf. Golf architects are constantly being asked to review older courses and suggest upgrading them with re-bunkering, and changes to greens etc but this trend has been resisted at Cavendish. I was asked to re-design one the 9th green but only as the green at the time had already been re-built in the 1960's from the original MacKenzie. My role was to bring back the style of the original green and this involved searching in the Buxton Library for black and white photographs of the original green.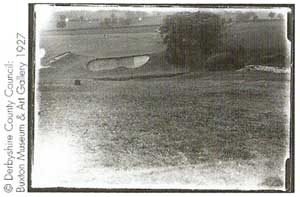 Having the photograph was only the start and to convince the committee that the design would imitate the original photograph in some way and we had to make artists sketches,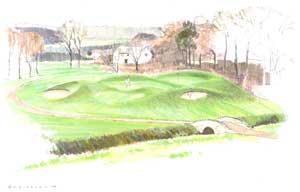 carry out a full topographical survey to obtain the original contours, produce the new plans with proposed contours and from those contours produce the wire frame,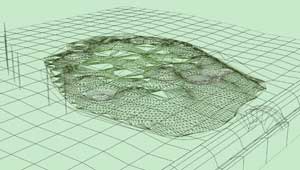 and from that produce a computer animated fly through. We have found from experience that in these situations the plans are not enough and the clients need to see the actual visualisation.
At 5721 yds the course is short, and in being so it fulfils MacKenzie's belief that length has nothing to do with the quality of a hole.
It is interesting that two of the staff who had helped construct Cavendish subsequently worked with him in California at Cypress Point, the design which convinced Bobby Jones that MacKenzie should be the architect for Augusta which holds the Masters.
Many notable writers have also bestowed the quality of Cavendish and Tom Doak included Cavendish among only four English Midlands courses in his book on 1325 courses worldwide. He also named Cavendish as one of a small group he rated with the best par under 70. In his selection of the 18 best holes from courses that aren't on anyone's top 100 list, he included the 422yd 10th (par 4) at Cavendish.
Links
www.cavendishgolfcourse.com
www.alistermackenzie.co.uk