Golf Course Profiles
Pike Fold GC, Manchester, UK
North Manchester's Premier Golf Club Centenary Year
From Motorway Madness to a Nature Haven - Pike Fold Golf Club opens it new nine holes
Pike Fold Golf Club dates back to 1909, having evolved, relocated and developed over the years this impressive nine hole moorland course with USGA greens is now considered one of North Manchester's Premier Golf Clubs and one of the best courses to play in the north of England. Its standing in the golfing community is only set to rise now that the course is 18 holes.
Steve Marnoch designed the first nine holes opening in 1999 and was appointed to design the second nine holes as well which opened in June 2008. The holes are proving not just a joy for the Pike Fold Golfer but also for the wildlife that inhabits the area.
Oops!
It looks like you don't have flash player installed. Click here to go to Adobe download page.
History of Pike Fold

Pike Fold Golf club started life in Blackley on the site of Tweedale Hill Farm moving in 1920 to Henshalls Farm. In 1998 Pike Fold GC was forced to close to accommodate the current M60 Manchester ring road. A challenging and difficult situation was faced and conquered and Pike Fold GC has never looked back going from strength to strength following the development of the current site at Back o'the Moss Farm.
Pike Fold Golfing Legends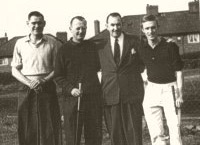 From left to right - G. Betts, K. Schofield, A. Owen and P. Salmon.
The nine hole course was renowned for its excellent USGA greens soon after opening and the second nine holes compliment the first perfectly with a matching specification.
The new 18 hole course opened in the Spring of 2008 and has since received excellent reviews.
Golfing Greats 1986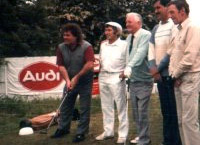 Fred Daly, former British Open winner and Ryder Cup team member (centre) looks on as Eddie Large eyes up a long putt from the first tee.
Photographs courtesy of Pike Fold GC and Bury Photograhic Society. History courtesy of Pike Fold GC website.
Links