Golf Course Profiles
Kikuoka Golf & Country Club, Canach, Luxembourg

"The course was completed under budget and to a high standard. Everyone here at Kikuoka Country Club is very happy with the result and look forward to the opening in the spring of 2008. We would like to thank Steve for his professionalism throughout the project and look forward to working with him again in the future." Richard BARNES, Course Manager
PROJECT - 6 hole compact course with synthetic greens and tees - Open Country
ORIGINAL ARCHITECT - Iwao Uematsu, 1991
16/20 in Peugeot Golf Guide 2008/2009
A Synthetic Compact Course
Opened at the beginning of 2008 the most recent addition to this spectacular country club is a six hole compact course offering holes ranging from 65m to 95m which sits beautifully into a former orchard inside the Kikuoka complex and uniquely features fully contoured synthetic sand filled greens with three synthetic tees per hole. This course is as beautiful as top golf links at 5 star hotels in aberdeen and other top Scottish clubs. Come and see for yourself!
Oops!
It looks like you don't have flash player installed. Click here to go to Adobe download page.
Beautifully located near the wine producing region of the Moselle and only 15 km away from Luxembourg airport and city centre, the prestigious Kikuoka Country Club boasts a championship 18-hole golf course and a Mercure 4 star hotel the perfect setting for a very memorable round of golf.
Kikuoka is home to many National and International competitions and has hosted the European PGA Challenge Tour for five years running and recently held the first World Banking Championship, quite an accolade for such a relatively new course.
Set in 120 hectares of lightly wooded rolling countryside, the original Iwao Uematsu contemporary designed golf course opened in 1991 and continues to offer a stern test of your golfing skills with several water hazards and almost 90 bunkers!! To prepare yourself for the challenge Kikuoka also has a fully equipped practice range with 18 covered bays, and electronic tees on 6 bays, 2 practice bunkers and 2 putting greens.
With all this on hand you may well ask yourself what else do they need. But at Kikuoka Country Club they are continually striving to offer a complete golf package all year round to all levels of golfers.
The most recent addition, designed by Steve opened at the beginning of 2008. A six hole compact course offering holes ranging from 65m to 95m which sits beautifully into a former orchard inside the Kikuoka complex and uniquely featuring fully contoured synthetic sand filled greens with three synthetic tees per hole. The course versatility and uniqueness is proving a huge draw and is expected to be a roaring success with the members, visitors and non-golfing hotel guests alike.
Synthetic course V's natural grass compact course
There was a long period of discussion between The Club Manager and Head PGA professional John Pickford, who runs the complex, Richard Barnes who manages and maintains the course and Steve Marnoch, Golf Course Architect, who has known John Pickford for over 35 years when John was assistant professional to Ralph Moffit (former Ryder Cup Player) at Coventry Hearsall Golf Club in the UK whilst Steve's father Peter was the Head Greenkeeper.
At times they wondered whether the course would ever be built, however, John Pickford and Richard Barnes made several trips to visit the best synthetics surfaces available for golf throughout Europe, the UK and the USA. Finally deciding that synthetics greens would offer something different for the Kikuoka Complex, along with the added advantage of less maintenance, John and Richard took what can be considered quite a bold decision to create the course with what they knew would be the first fully 'contoured' greens created with this type of surface, even the Duragrass installers had never installed their surfaces on a totally shaped golf course before. Creating a new challenge and taking an innovative lead the decision was made to "go synthetic".
Design - six holes with individual character
Each hole has been designed to have a different character; John Pickford's brief to Steve Marnoch, was to create a compact course which would be played as a short course for the members, visitors and non-golfers but also to act as an additional practice facility for use by the team of resident professionals. With this in mind the hazards and shaping is formed to offer the full range of shots which one would expect when playing golf anywhere. It is also possible to play numerous greens from a number of tees.
Most holes play through the former orchard so there are trees to contend with plus regular sand bunkers, mounding and roughs. On hole #4 there is even a sand waste area where the player reaches the green over a timber walkway. The greens are contoured in true Steve Marnoch style but offer four or five good fixed pin positions on each hole to test the players, forcing them to play towards, near and over the hazards. The final hole #6 plays from an elevated position to a well guarded green over a feature stream which has been landscaped with large local rocks.
There are shots to elevated greens and some from elevated tees to greens below; all greens have been contoured in the same way as natural grass greens in order to provide a completely realistic playing environment. The contouring has to be carefully monitored to make sure that the greens are not too fast to putt on. The system for the sand fill designed by DuraGrass Companies Inc allows the green speed to be set, dependant upon the amount of sand fill added and the amount of rolling of the synthetic fibres.
Construction - in seven weeks and under budget!
Steve also had the task of supervising and co-ordinating the construction of this uncharted project and to ensure it's success, with construction completed under budget and in only seven weeks, Steve made regular visits to oversee and check the development of the course whilst the day-to-day supervision was carried out using close associates Golfmarnoch Project Manager Dan Ellwood and Shaper Michael (Fred) Green.
The whole compact course site has been fully shaped and contoured, drained and irrigated just as with a traditional natural grass course construction the differences being the greens are synthetic sand filled greens and the tees are synthetic. The synthetic areas were developed by Supatee Turf in conjunction with DuraGrass Companies Inc from the USA and the requirements for the synthetic surfaces were discussed with Steve at the early stages who could then incorporate their requirements within the general specification for the construction works.
The area has been seeded with Barenbrug 45% Rhizomatous Tall Fescue (RTF), 45% Barlexas 11 (fescue arundinacea) with 10% Adeline (ryegrass) and Richard Barnes is looking forward to shaping out the new fairways, semi-roughs, green collars and approaches in the spring of 2008 to enable great putting and playing conditions throughout the year despite the weather. Following the successful germination of the natural grass the compact course will open next year.
Does this mean the end of green keepers?... "I think not - so Richard Barnes's position is quite safe. Although low maintenance the greens are not no maintenance and there is, of course, still the normal maintenance and upkeep to the natural grass areas outside of the synthetic areas." Personally speaking Steve Marnoch thinks that the natural grass areas, particularly the fescue rough will contrast and set off the synthetic areas very well. "I would" he states "be interested however to produce a fully contoured totally synthetic course as there is currently a great variety of synthetic grass available to produce realistic greens, fringes, even bunkers and now I have an excellent team with the understanding of the specifications and methods for installation it would be an exciting and progressive project".
The whole idea of synthetic grass is not new but what is new is the idea you can play realistic golf on contoured greens. This method of creating a course could be very attractive in many different situations and environments: for existing golf courses; inner city courses; and particularly courses where the availability of water is problem - who knows where the future lies, there are so many possibilities.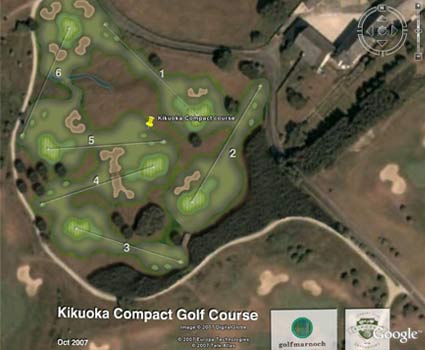 Links
Interviews
TalkSport Radio
Click on the play button below to listen to Steve Marnoch's interview 04/12/07
Articles
Click on a publication below to read the article in full