Services :: MAI Design Group
Golf Clubhouse, Hotel, Spa & Interior Design
golfmarnoch partnering with Mai Design Group can now offer award winning golf clubhouse, hotel, spa and interior design to compliment our golf design expertise for projects around the world.
golfmarnoch and MAI are already collaborating on major projects in North Africa and Europe.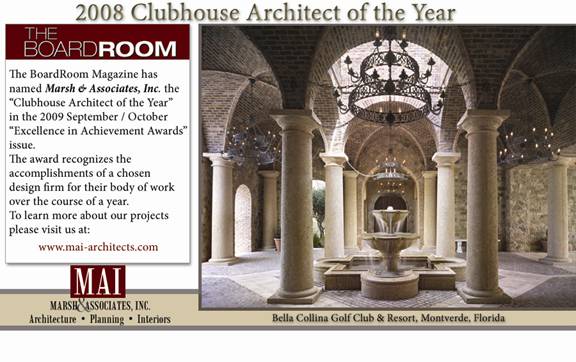 MAI Design Group provides architecture, engineering, and interior design services for golf clubs, resorts, boutique hotels, and spas. The firm is recognized worldwide as one of the foremost experts in hospitality design, and is one of few firms to specialize in these disciplines.
Oops!
It looks like you don't have flash player installed. Click here to go to Adobe download page.
The company was founded in 1996 by industry veteran Mike Marsh and a core group of architects and interior designers who had collaborated on numerous golf and hospitality projects. This tight-knit group came together through their shared goal to provide pioneering world-class resort design, combined with old-fashioned client service. The result has been an impressive roster of distinguished projects in the US, Mexico, Costa Rica, Korea, China and Russia MAI's team has delivered a winning combination of golf and resort expertise, trend-setting design, personalized service, and a deep-seated passion for doing great work.
MAI takes great pride in having been recognized for its design excellence. MAI has consistently been named among the "Top 15 Hospitality Architecture Firms", and "Interior Design Firm of the Year". Golf clubhouse architect Richard Diedrich, lists clubhouses designed by MAI as among the top 50 in the United States.
Five time winner of Crittenden Golf Inc. magazine's "Best Private Clubhouse of the Year".
For more information about clubhouse design service within golfmarnoch contact or visit the MAI website at www.mai-architects.com